Trident Precision International (TPI) boats an inhouse manufacturing and assembly facility. We provide tailormade engineering solutions as per customer requirement. We are a Parker authorized  Integrator, where in we design, manufacture and commission  hydraulic powerpacks along with Parker Hannifin India as per customer specifications. We have manufactured and commissioned many such projects in the past- details of some of which you can find below. 
PARKER DAMPER CONTROL APPLICATION
Trident Precision (T+P) in collaboration with Parker Hannifin India Pvt Ltd designed, manufactured and commissioned two hydraulic power pack systems for BPCL for damper operation application. Each power pack boasts a 600 Litre tank with stainless steel fabrication. It is equipped  with bladder accumulators for emergency operations and electrical connections in the powerpack are atex certfied suitable for oil and gas application. 
End Customer: Indian Oil
PARKER HYDRAULIC POWER PACK
We in collaboration with Parker Haniffin India Pvt Ltd designed, manufactured and commissioned 700 Ltrs  power pack system for damper control application. The power pack boosts all Parker parts ranging from Olaer Accumulators, Parker Proportional Valves, Parker PV series Piston Pump and Parker Olaer air Oil Cooler. The Power pack is manufactured to suit atex standards for usage in Oil and Gas application.
End Customer: BHEL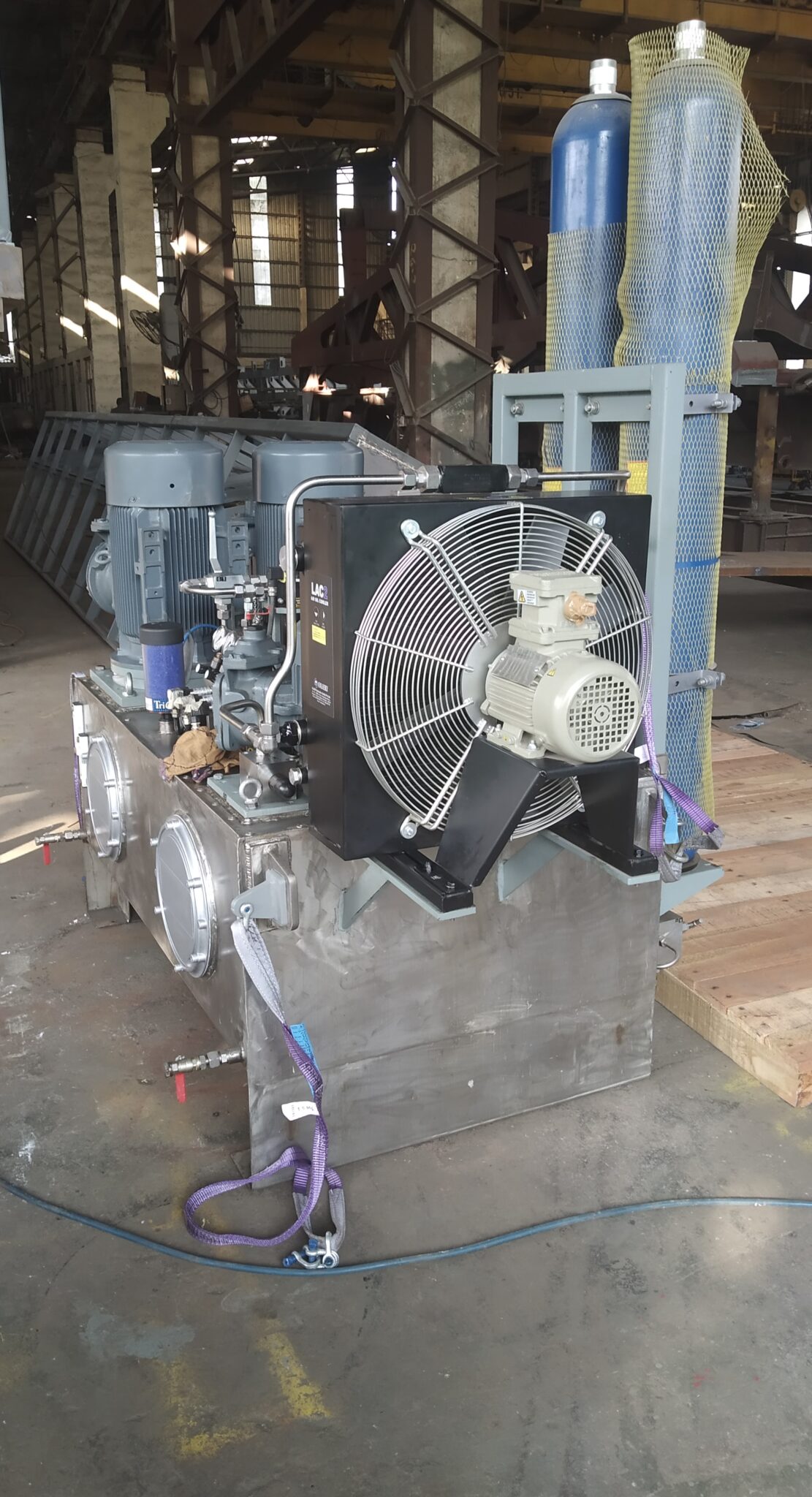 POWER PACK & HYDRAULIC CYLINDER FOR LIFTING SYSTEM
Trident Precision designed and manufactured a set of four hydraulics within a span of 30 days for four point lift. The designed cylinders had stroke of 3 meters and bore of 140 with flange mounting. The cylinders were supplied to Tratec Engineers for their first of kind in India – four point lift system for lifting of metro coaches as visible in the attached photos. 
End Customer:  Tratec Engineers,  Uttar Pradesh Metro Corporation
Hydraulic Power Pack For Multiple
Damper opening and Closing
Trident Precision provided a complete set of Hydraulic cylinders and Power Pack for controlling 6 damper opening application from a single power pack system. The power pack system was again designed, manufactured and commissioned by our company. 
End Customer: Adani Power